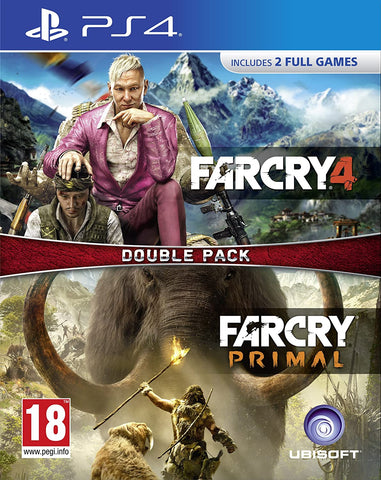 Far Cry 4 and Far Cry Primal Double Pack (PS4)
Features
Two Far Cry games together as a pack: Far Cry 4 and Far Cry Primal.
Far Cry 4: Hidden in the towering Himalayas lies Kyrat, a country steeped in tradition and violence. You are Ajay Ghale. Traveling to Kyrat to fulfill your mother's dying wish, you find yourself caught up in a civil war to overthrow the oppressive regime of dictator Pagan Min. Explore and navigate this vast open world, where danger and unpredictability lurk around every corner. Here, every decision counts, and every second is a story. Welcome to Kyrat.
Far Cry Primal: Welcome to the Stone Age, a time of extreme danger and limitless adventure, when giant mammoths and sabretooth tigers ruled the Earth, and humanity is at the bottom of the food chain. As the last survivor of your hunting group, you will learn to craft a deadly arsenal, fend off fierce predators, and outsmart enemy tribes to conquer the land of Oros and become the Apex Predator.
---
We Also Recommend