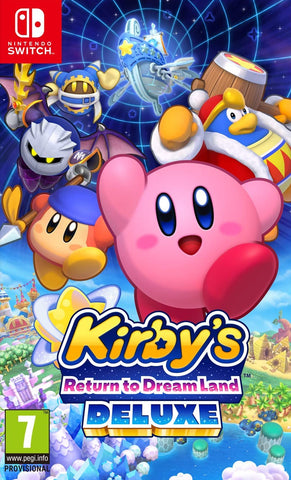 Kirby's Return to Dream Land Deluxe (Nintendo Switch)
Up to four players can join Kirby and friends as they travel through Dream Land to help Magolor repair his crashed spaceship.
In addition to Sword, Whip and other familiar Copy Abilities, the new Mecha Copy Ability makes its debut.
Become a robot and fly through the sky, attacking from a distance with your cannon or up close with powerful punches. You can also inhale glowing enemies to make use of special Super Abilities – ultra-strong versions of Copy Abilities that can really turn the tables.
Share Joy-Con controllers to play together locally on the same console with up to four players. Play as fan-favourite characters like Kirby, Meta Knight, King Dedede and Bandana Waddle Dee, or let everyone play as Kirby, each using their favourite Copy Abilities.
Take a break from the adventure and play a range of subgames with up to four players. As well as returning subgames such as Ninja Dojo and Samurai Kirby, you can also dive into the all-new Magolor's Tome Trackers.
---
We Also Recommend