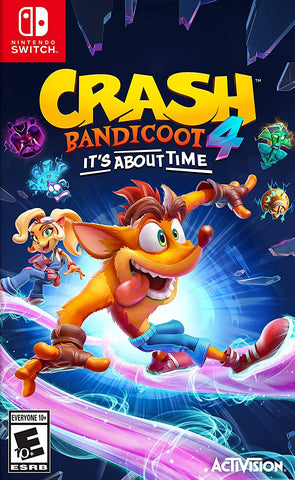 Crash Bandicoot 4 It's About Time (Nintendo Switch)
Uncover four Quantum Masks, the guardians of space and time, that will give the ability to bend the rules of reality and gain advanced ways to conquer dangerous obstacles.
Fresh visual direction for Crash that maintains the zany spirit of the franchise while also breathing unique personality and charm into it.
Expect wacky new worlds, lush epic vistas and an absurd variety of enemies and hazards.
Fans can play as Crash or Coco on their journey to save the multiverse as well as new playable characters.
Fans can expect formidable bosses and monumental battles like they've never seen before, as Crash and Coco use Quantum Masks to their advantage.
Utilize the environment by wall running, rail grinding and rope swinging, discovering new ways to platform and progress through exciting challenges.
---
We Also Recommend