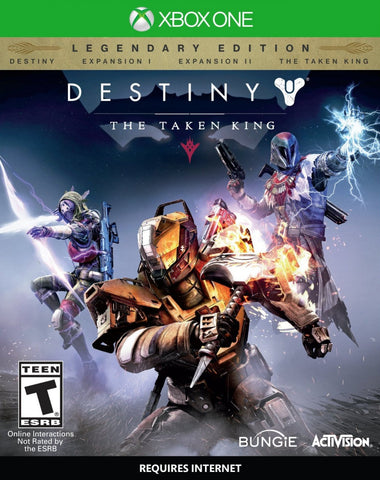 Destiny The Taken King Legendary Edition (Xbox One)
Features
To battle back the Darkness and the Taken army, players will get brand new subclasses with new supers. Warlocks will now harness the power of an electric storm, Hunters will carve a bow formed from gravitational void energy, and Titans will summon a flaming hammer that can sear their adversaries from a range or deliver a devastating melee impact
A massive Hive Dreadnaught ship looms in the rings of Saturn. Oryx, The Taken King has arrived in our solar system, bringing with him a corrupted army to exact revenge on the Guardians who destroyed his son Crota, and to consume our worlds. Arm yourself with newfound abilities, weapons, and gear. Defeat the Taken hordes. Make your way aboard the Dreadnaught, and face Oryx himself within his inner sanctum.
Adventure through new Strikes featuring powerful bosses, follow more quest lines that lead to powerful, new gear and brave the next major Raid to test six-player Fireteams.
---
We Also Recommend