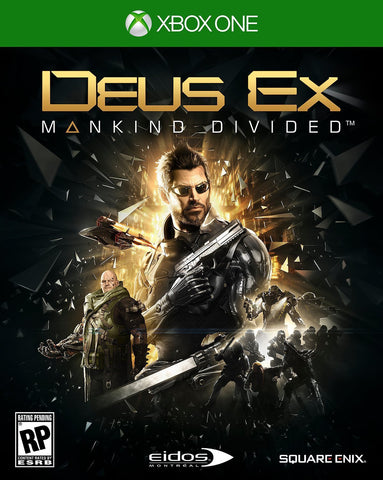 Deus Ex: Mankind Divided (Xbox One)
The year is 2029, and mechanically augmented humans have now been deemed outcasts, living a life of complete and total segregation from the rest of society. Now an experienced covert operative, Adam Jensen is forced to operate in a world that has grown to despise his kind. Armed with a new arsenal of state-of-the-art weapons and augmentations, he must choose the right approach, along with who to trust, in order to unravel a vast worldwide conspiracy.
Deus Ex: Mankind Divided – Breach is an innovative game mode included in Deus Ex: Mankind Divided. This new take on the game offers, for the very first time, an arcade approach on the gameplay of Deus Ex: Mankind Divided, providing players with a connected puzzle shooter experience. As a Ripper, your objective is to obtain and sell highly classified corporate data by infiltrating some of the world's most secure servers, using the funds you acquire to upgrade both your skills and arsenal. As you play, the rewards you earn, including XP, credits, and booster packs, will allow you to face the increasing difficulty of the game.
Challenge yourself, your friends, and people from around the world in the ultimate Deus Ex arcade twist. Breach is a live game mode, introducing new challenges and features by rolling out updates on a regular basis.
Features
In the Near Future, Mankind Stands Divided - Explore diverse locations and discover a near future where humanity's fate, amid the oppression of the mechanically augmented, hangs in the balance
Human 2.0 - Become the ultimate augmented covert agent as you choose from a vast array of weapons and augmentations, customizing them to your desired specifications
Meaningful Choice anf Consequences - Experience the renowned world of Deus Ex, where your decisions and actions play a crucial role in determining the game's outcome
Breach - innovative live game mode included for free; Offers an arcade approach providing a connected puzzle shooter experience; Rewards earned allow you to face the increasing difficulty of the game
---
We Also Recommend