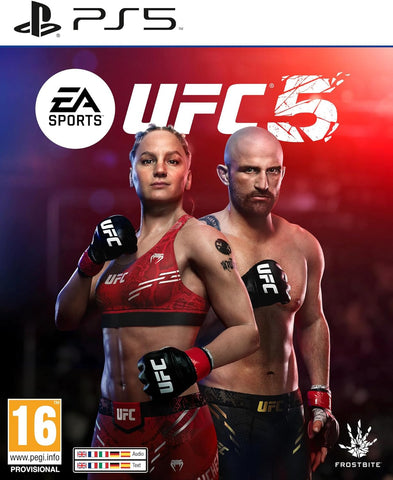 EA Sports UFC 5 (PS5)
Cuts, bruising, and swelling accumulate in accurate locations based on the damage you inflict and take in-game, including over 64,000 possible combinations of facial damage a fighter can sustain.
The new Seamless Submissions functions as a revamped extension of the existing grappling systems with faster animations and the removal of mini-games.
Showcasing UFC's significant presentation updates in truly innovative fashion is the all-new Cinematic K.O. Replay.
From newly added draws in offline and online play to realistic updates to how the ref steps in to save a downed fighter from too much ground-and-pound; the number of ways a fight can end has grown in number and authenticity in UFC 5.
UFC 5 is truly an extension of the UFC fan experience, and there is no better example than the all-new Fight Week challenges, features, and content that connect them with blockbuster UFC cards in a way that has never been done before.
---
We Also Recommend