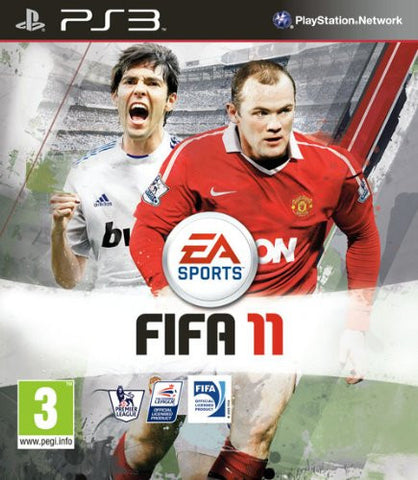 FIFA 11 (PS3)
Building on the FIFA Soccer 10 gameplay that won 50 sports game of the year awards, FIFA Soccer 11 reinvents player authenticity – on and off the ball – for every player and at every position on the pitch with Personality+, an all-new feature that sees individual abilities reflected in game, enabling clear differentiation for every player. New customization features will also give players the ability to bring their own style to the highest rated sports game ever on PlayStation 3 and Xbox 360.
Features
Authentic Player Personality: Personality + sees a soccer player's ability on the pitch mirrored authentically in game, creating clearly differentiated players with individual personalities. Personality+ at every position and for every player on the pitch reinvents how players perform – on and off the ball.
360° Fight For Possession: True freedom in man-to-man interactions, transforming physical play from individual lateral jostling to full 360° collisions involving multiple players.
Pro Passing System: A new passing system where pass accuracy is determined by a gamer's ability on the control pad, and player skill, situation and urgency on the pitch. Poor decisions or over/under striking the ball will mean error-prone outcomes.
Multi Player Celebrations: Celebrating your goals becomes more interactive as your friends can now join in on the action. Interact with other players on your team, joining together in true celebratory fashion.
Career Mode: A new engine delivers an authentic experience that mimics the real-world game. Begin as a real player, created player or Virtual Pro and evolve into a player-manager and manager--or just begin at the top--and enjoy a 15-year career. Players now receive instant feedback and enjoy a vastly improved status system. Featuring new Team Management for simpler player comparison and Friends Leaderboard to compare stats and earnings.
Creation Centre Beta: Go online to craft your own player and create the team of your dreams. Create your player's appearance, accessories and attributes and then create a team with a distinctive crest and kits. Publish on the web and download onto your console to play online, in Tournaments and in Kick-Off matches. Created players can also be used in the Arena, Career Mode and Lounge Mode.
Custom Music & Audio: Assign customized chants for every team and league. Set your home club's anthems and chants to play during player introductions, halftime, and after goals. Even hear your name echo in the stands of Old Trafford or San Siro with customized chants for your Virtual Pro. Plus, play music from your hard drive in game.
FIFA Theatre: Save highlights from any match – including online – right to your hard drive to view, replay or upload to Footballworld.com at any time.
Complete Authenticity: 28 officially licensed leagues, over 500 licensed teams and more than 15,000 players.
---
We Also Recommend