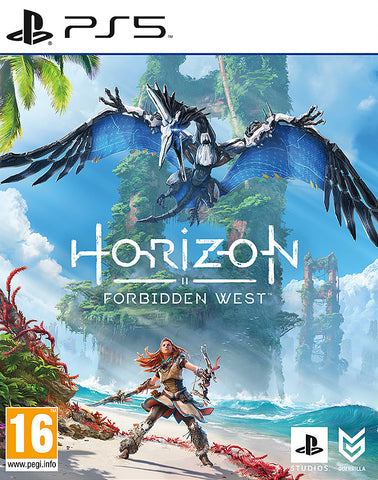 Horizon Forbidden West (PS5)
Fast-travel across the map and get back into the game almost instantly with the PlayStation 5 console's ultra-high-speed SSD and fast load times.
Experience the vast world of Horizon Forbidden West in stunning 4K and HDR. From mountain tops to small sprigs of leaves, everything is realized to incredible detail at an enormous scale.
Get closer to each fight Aloy takes on with the DualSense wireless controller's haptic feedback. Feel the sensation of blades of grass you brush past when making a stealth approach, melee swipes you make against machines and armoured humans, and the directional impact from enemy attacks when you attempt to evade.
Enjoy a new level of immersion when you interact with different objects using the DualSense wireless controller's adaptive triggers. Feel the tension in the string of your bow, the pull of your new grappling tool and the resistance of the triggers on heavy tribal and mechanical weapons.
Listen to the landscapes of Horizon Forbidden West come to life around you with the PS5 console's Tempest 3D AudioTech (requires compatible headphones). Hear vegetation rustle in the wind, birds flying overhead and large mechanical machines swimming in the water below as you explore environments teeming with wildlife and machines.
---
We Also Recommend