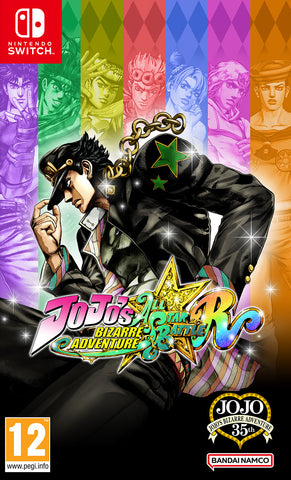 JoJo's Bizarre Adventure All-Star Battle R (Nintendo Switch)
Captures the over-the-top art style that is vintage JoJo, allowing you to experience the JoJo universe with powerful imagery as if Hirohiko Araki's manga had come to life.
Jonathan Joestar, Jotaro Kujo, DIO, Jolyne Cujoh, and other characters from JoJo's Bizarre Adventure gather across multiple generations. With 50 playable characters from all arcs, you can experience popular battles from each story, and see characters from different universes interact for the first time.
Consists of All Star Battle Mode, Arcade Mode, Online Mode, Versus Mode, Practice Mode, and Gallery Mode.
Based on the All Star Battle system released in 2014, the game design of JoJo's Bizarre Adventure: All-Star Battle R reinvigorates the experience with adjustments to the fighting tempo and the addition of hit stops and jump dashes.
With new audio recordings from the Part 6 anime voice actors, the full atmosphere of the animated series is realized. Both fans who have played the original All Star Battle and newcomers will be able to enjoy the experience.
---
We Also Recommend