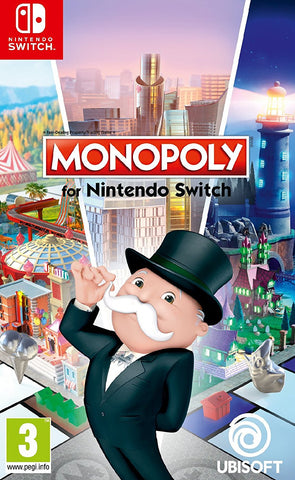 Monopoly (Switch)
3 different 3D boards are waiting for you. You can now enjoy the game you know and love in a Classic City, an Amusement Park or a Haunted Town.
Thanks to the Nintento Switch, you can now enjoy Monopoly wherever you want. Play at home on your TV screen or on-the-go in tabletop mode, and feel the dices as if they were in your hand.
Play the way you want by selecting one of the 6 official House Rules chosen by Monopoly fans from around the world. The Speed Die mode is also available to make you progress faster around the board.
Not enough time for a full game? Choose a new objective from our 5 Special Goals. Those quicker-to-achieve goals will ensure shorter play sessions and make you change your strategy. Be ready to challenge yourself.
Spice things up with Actions Cards and take control over your own destiny.
Find other players online and challenge them in quick matches, or in customized sessions choosing your way to play. Try to get at the top of the leaderboard and be the one to own it all.
---
We Also Recommend