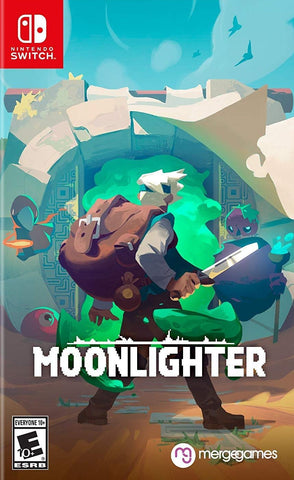 Moonlighter (Nintendo Switch)
Features
Conduct business in Rynoka village: Put items on sale, set prices, manage Gold reserves, recruit assistants, upgrade your shop, and watch for shady individuals wanting to steal your wares.
Use the craft and enchant system to make new armour, weapons, and improve your existing equipment. Some Rynoka's residents may request rare items from you, and offer handsome rewards in return.
Enter the gates which lead to different worlds. Collect valuable resources, weapons, armour, treasures and peculiar artefacts. Manage your acquired loot using unique inventory-based abilities.
Adapt to develop your own battling style: Defeat enemies and bosses as each fight depends on your skills and interactions between your weapons, timing, positioning, enemies and environment.
Prepare for everything because each run is unique and forces you to make Smart decisions. You never know what you will encounter next in these Dimensions.
---
We Also Recommend