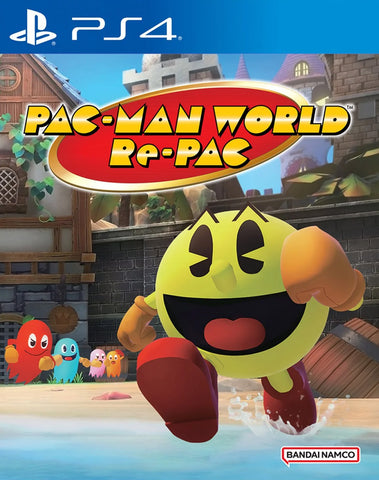 Pac-Man World Re-PAC (PS4)
Dodge Ghosts and other baddies, solve environmental puzzles and collect items through the six areas of Ghost Island: Pirate, Ruins, Space, Funhouse, Factory, and Mansion – each featuring multiple levels and a unique boss battle challenge.
More than running and chomping – PAC-MAN will butt-bounce, rev-roll, hover-jump, and more while collecting PAC-DOTS, fruit, and power ups. Become invincible and walk underwater with the Chrome Suit and become MEGA PAC-MAN to chomp the ghosts.
Find keys hidden in each world to rescue PAC-MOM, PAC-BOY, PAC-SIS, Professor PAC, PAC-BUDDY, and Pooka. With each rescue PAC-MAN gains an advantage for the final battle against the dreaded TOC-MAN.
Play a collection of 3D mazes in Maze Mode. Clear Quest Mode to unlock the original PAC-MAN game in Original Mode.
This 3D action-adventure platformer is packed with intuitive gameplay, enhanced features, and a shiny new look for PAC-MAN and the Ghosts.
---
We Also Recommend