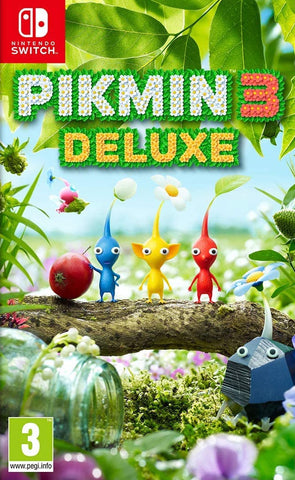 Pikmin 3 Deluxe (Nintendo Switch)
Features
Grow a squad of adorable, plant-like Pikmin to traverse a strange world and save your planet.
Deluxe version of the Pikmin 3 game includes new side-story missions featuring Olimar and Louie, the ability to play story mode with a friend and all DLC stages from the original release.
Three brave explorers land on planet PNF-404 on a mission to find food for their starving home planet. After a crash landing, these explorers must work with Pikmin to reunite and complete their mission.
Direct, toss and grow Pikmin with different abilities and strengths. By strategically choosing the right Pikmin for the job at hand and changing between the three captains (or coordinating with a second player), you can work efficiently to collect fruit and grow your Pikmin squad.
With more options for cooperative play, it's easy for newcomers to start their Pikmin journey, new side stories and more, these tiny Pikmin are in for their biggest adventure yet.
---
We Also Recommend