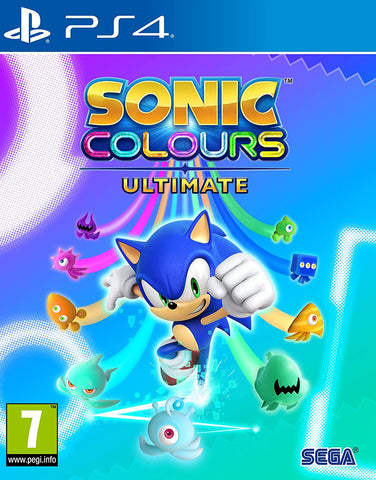 Sonic Colours Ultimate (PS4)
Join Sonic in the high-speed adventure of a lifetime.
Use Sonic's lightning speed to free the Wisps and learn the secrets of their amazing powers as you explore six unique colourful worlds, each filled with dangerous enemies and hurdles to overcome.
Now with stunning upscaled visuals, additional features, a new game mode and enhanced gameplay.
Accelerate to adrenaline-pumping super speed, zoom across challenging worlds, and manoeuvre through hazardous obstacles. Time your attacks perfectly to charge your boost and reach Super Sonic speeds.
Explore and adventure through immersive environments, like a Sweet Mountain filled with delightful sweets or an Aquarium Park filled with sea life and countless pools.
Transform Sonic by harnessing the magnificent alien power of Wisps to defeat enemies and discover the secrets of the Interstellar Amusement Park. Pass through solid objects and discover alternate paths using the new Jade Ghost Wisp.
Compatible with next-gen consoles and now more colourful than ever with enhanced visuals and graphics.
Put your skills to the test and go head-to-head with Metal Sonic. Break records and win to unlock rewards.
---
We Also Recommend