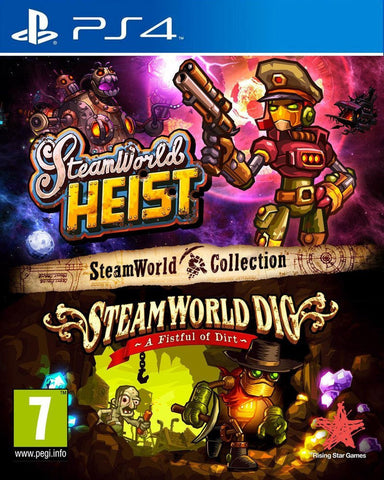 Steamworld Collection (PS4)
Features
SteamWorld Dig
A platform mining adventure full of secrets, treasure and terrors.
Discover a world of steam-driven robots, inspired by Western and Steampunk themes.
Dig your way through the old earth, gaining riches while uncovering the ancient threat that lurks below.
Uncover the remnants of human civilization, a degenerate race of dynamite-wielding troglodytes.
Critically acclaimed with a 75%+ Metacritic rating.
SteamWorld Heist
Command a steam-driven robot pirate crew in epic tactical shootouts.
Turn-based strategy with a twist: manually aim the guns of your robots, allowing for insane skill shots and bullet-bouncing action!
Board, loot and shoot your way through enemy spaceships and upgrade your recruits with unique abilities, weapons, and of course stylish hats!
Kind to newcomers yet deep and challenging for veterans, with around twenty hours of gameplay, as well as New Game+
Loved by critics with an 80%+ Metacritic rating
---
We Also Recommend