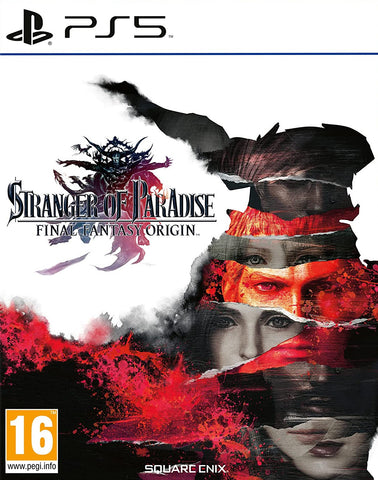 Stranger of Paradise Final Fantasy Origin (PS5)
Layers of challenging action illustrate the story.
Battles are punctuated by iconic actions and abilities from the FF series. After depleting an enemy's Break gauge to zero, deliver a finishing blow using a soul burst, shattering the crystalized enemy to oblivion.
Various types of weapons determine a character's job when equipped. Acquire new abilities and jobs through a character enhancement system called the Job Tree. Completing the picture, equipped weapons and gear are reflected in the character's appearance.
For the first time ever in a non-MMO entry in the Final Fantasy series, every piece of gear equipped will be visually represented in game. A richly rewarding crafting system and bountiful loot lets you customize your entire party and choose how you look and play.
Experience co-op play in a group of up to 3 players through online multiplayer mode. Enjoy the main story and side missions with your friends.
---
We Also Recommend