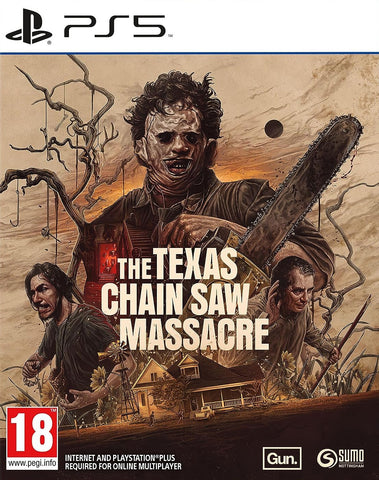 The Texas Chainsaw Massacre (PS5)
Featuring locations depicted in or inspired by the 1974 classic horror film, The Texas Chain Saw Massacre will see teams of Victims and Family facing off against one another in a deadly game of cat and mouse.
3v4 team based multiplayer, a first for asymmetric horror.
Victims must use teamwork, stealth, and all of their abilities to try to escape from the clutches of the Slaughter Family. With a robust metagame encouraging build crafting, and intense, terrifying gameplay, the team of Victims will find the odds stacked against them as they search for the tools they need to unlock exits and flee the property.
The Slaughter Family must lock down the property and hunt down each and every victim. Featuring the iconic Leatherface, Cook, and Hitchhiker from the film, the Family will be joined by new additions Sissy and Johnny, created in cooperation with Kim Henkel, the original writer of The Texas Chain Saw Massacre. The Family must use their special abilities and brutal nature to chase down, corner, and dispatch the Victims one by one, all the while making sure to keep Grandpa fed.
---
We Also Recommend